[7th July 2017]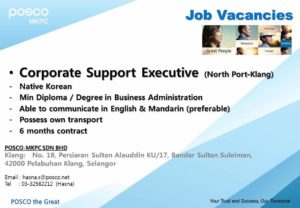 [16th February 2017] 
Korean company looking for Sales Promoter
Company address: Jalan Genting Kelang
Position: Full time Sales Promoter(9:30am to 6:00pm, 1 week 1 day off)
Salary: Basic + Comm = RM1500 to RM2000
Requirement :
-Age: 19 to 30 years old
-Language: English and Malay or Chinese language
-Required to stay nearby.
Interested candidates, kimdly contact Ms Vivian, 012-3047482.
[1st December 2016] 
Korean company looking for local who can speak Korean
Company address: Plaza Montkiara,2 Jalan Kiara, Montkiara
Position: full time office staff
Salary: RM3,000 (nego)
Working experience: 2-3 years
Interested candidates, kimdly contact peterchang0203@gmail.com
[29th October 2016] 
Korean speaker required – Ensoft
Interested candidates, kindly email ea@ensoft.com.sg for further information.
[25th September 2016] 
Looking for contracted Korean speaker IT service Desk Support
Minimum requirement :
— University Degree or equivalent
— At least 1 year of working experience in an IT discipline
Interested Candidate please contact sherine.lee@jti.com
[6th September 2016]
Job vacancy for Korean to English Interpreter/Translator to work as a freelancer/part-timer.
Event: Live Broadcasting Training
Language: Korean to English
Duration: 2 weeks
Date: 19 Sep until 1 Oct 2016
Venue: NTV7 Studio Glemnarie & Balai Berita Bangsar
Payment: RM200 per day
Vacancy: 4 person
Please contact Aqilah ASAP with your CV.
Email: nurul.aqilah@mediaprima.com.my
Contact number: +6013-2856250 (Whatsapp only)
*Serious applicants ONLY